BEAUTY // Giorgio Armani's ACQUA FOR LIFE 2012 Project
Saturday, March 03, 2012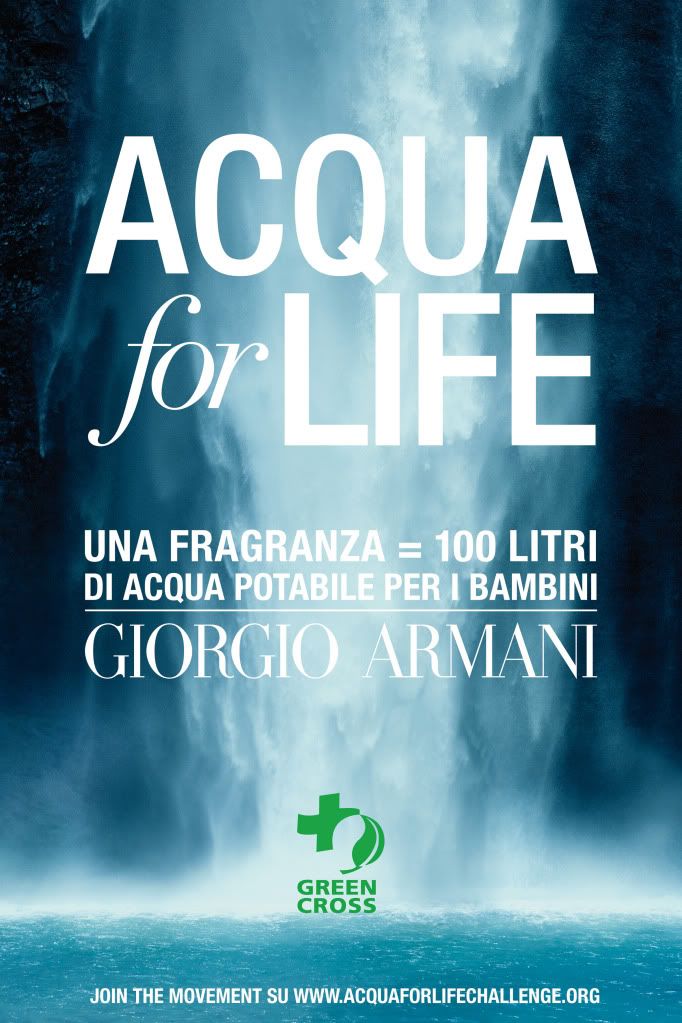 The 1st March has started Giorgio Armani's ACQUA FOR LIFE 2012 campaign.
Also this year the King of fashion has joined forces with Green Cross International to give rural communities access to clear water.
Do you know that our planet is covered with water for 75% but only the 3% is fresh and less than 1% is actually accessible?
About 900 million people has still no access to safe drinking water.
You probably have heard about the last year campaign that Emporio Armani Group did, when the ambitious objective of more 40 million litres of safe water per year for Ghana was surpassed.
In Italy we were very proud of being the first country for donations!
So this year the project has extended to both Ghana and Bolivia and, for other countries, Italy is definitely the country to beat in the water race!
How to join the water race with us?
It's incredibly easy! Go to the project's
Facebook page
and like it.
1 like is 50lt donated to the project.
Also the very famous Armani perfumes Acqua di Giò (for men) and Acqua di Gioia (for women), connected with water since their names, are part of the initiative. So, if you buy one perfume, you instantly give 100 lt to the race! From this year the perfume bottle packages are on a limited edition.
They are probably 2 of the most well known and loved fragrances from Armani so it's a nice idea also for a present.
And there is more than that! There is also a super nice t-shirt.
A friend of mine has done this photo with her mobile (completely out of focus, OMG!) in order to go to Emporio Armani's shop and ask for it. The t-shirt costs 60 euros and the 30% will be donated to Green Cross International.
The print on the t-shirt refers to the drawings especially made by children helped (by this project's previous edition) to say thanks to Giorgio.
This lovely t-shirts has, obviously, aqua blue shades.
So, what are you waiting for?
Have a look at the
website
and discover more!
P.S: #acquaforlife2012