LIFESTYLE // Isabella Santacroce's New Book
Tuesday, May 01, 2012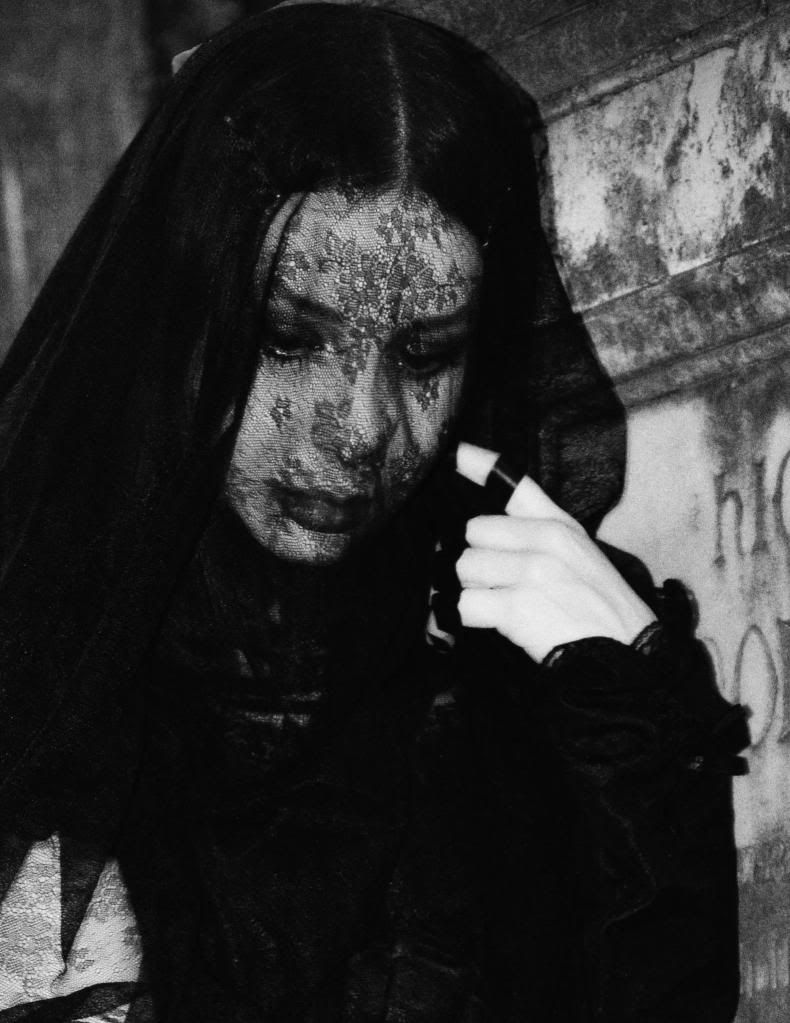 This post, in a certain way, is absolutely out of topic.
It is not about fashion, not about beauty, neither about style.
It's about me going to a book presentation.
She is an italian writer who I really love.
Her "Lovers" is one of my favorite books ever.
I have already met her when I was 20.
This time,a little bit grown up, I was pretty formal dressed because I was working before the event.
Well, not really formal, but for sure not even in my darkest look.
At Feltrinelli there were me, girls who looked like me at fourteen, heavy metal kind of people and people who only had come to have a look at new books and escape from rain.
There were, also, more men than women.
Not just teens with long leather coats but also men with suits.
I have never thought at Isabella Santacroce as a writer loved by men. My mistake, I guess.
Anyway, after a chorus with girls, recruited through Facebook, who were reading chapters of her book (I guess again, I haven't already read it) she appeared in a kind of gothic-burlesque look.
Black cuissards, red bustier and blue top with large bat sleeves. She was wearing a mask, a big one, an "Eyes Wide Shout" kind of mask. And in the right hand she had a skull. Like Amlet? Who knows.
I thought "Look at her, she has an amazing body! How old is she? She was like 30somehing when I was a teen and I first read her book "Fluo". Now she has to be 40 something":
So I googled her and I discovered that she is 42. Chapeau.
She stayed on stage for a while, mixing her voice with a childish one. I think that voice was already recorded. Anyway, who cares? It was a show more than a presentation, so no one was expecting her reading the book.
Then she come back on stage to sign autographs. I hadn't my Amorino with me so I asked her to sign my diary. Actually, I didn't asked her but she was so nice to do that.
All of that never revealing her face.
In conclusion, I felt teenager again. Really. But it was nice.
Her "Lovers" was a very important book to me. It helped me to find my way of writing.
The first time I read "Fluo" I thought "So what?".
To me, the beauty of her first books aren't in the story but in the way there were written.
I think so even for Lovers.
I'm not a book critic but I think at Lovers as her turning point. After that book she started to focalized also on the narrative part.
I think she also deserves a "Brava!" for the way she built up the relationship with her fans.
She is very active of Facebook. Well, I don't know is she or her press office but this is not important.
She has recluted people on facebook to be part of her presentations. That's very good.
I think that writers have to stay close with their readers and try to find a way to let the books live their lives (and R.J. Rowling's project is magister in that).
For readers the word "End" doesn't mean the last point but a new beginning.
Are you curious? I've find those videos on youtube:
het table at Feltrinelli