BEAUTY/ 5 Make-Up Trends for A/W 2012-13 PERFECT SKIN &/OR BIG EYEBROWS
Wednesday, September 12, 2012


This fall/winter you have to find the perfect primer and a great foundation: our skin has to be impeccable. And, more than ever, eyebrows are face's point of attention. So, forget Victoria Beckhams's eyebrows during the 90s, and go for something more Audrey Hepburn, Lana Turner or Marilyn oriented.
Even if a simple, genuine, healthy look seems to be the easiest to do, I think that a realistic and chic make-up is anything than effortless.
Burberry look is particularly well made: perfect "dewy" skin, sepia-toned lids, nude-rose lips, highlighted countour.


"He (Christopher Bailey) wanted a girl who had been going out in the town all week and then retreated to her country estate for the weekend,She loves the excitement of city life, but she's not afraid to get her hands dirty in the country."
Burberry make-up fall/winter 2012-13
Eyebrows are also the turning point for Chanel's make up. The french maison always finds something incredible, unexpected in make up.
I think that s
tyle.com
has done one of the best descriptions of this extravagant make up:
The theme [of the show] is minerals—there are minerals coming out of the set!—so Karl made a sketch and he wanted minerals on the eye," Philips explained, presenting a series of stone-encrusted rectangular mesh panels that he glued over models' natural arches using a prosthetic adhesive. "We had to find a way to make it contemporary so it wasn't like a cabaret thing," he explained of the accessories, which led him to Lesage, the Paris-based embroidery atelier that helped turn Lagerfeld's illustration into a reality. The "brows" came in variations of gray, green, pink, and purple. Why the elaborate embellished detail? "It's a show, it's a catwalk," Philips responded, explaining that there should be room for some drama. "It also gives a uniformity," he added, "an almost military effect, which makes it easier when you have so many girls because you have one line to do: shading and contouring and the eyebrows.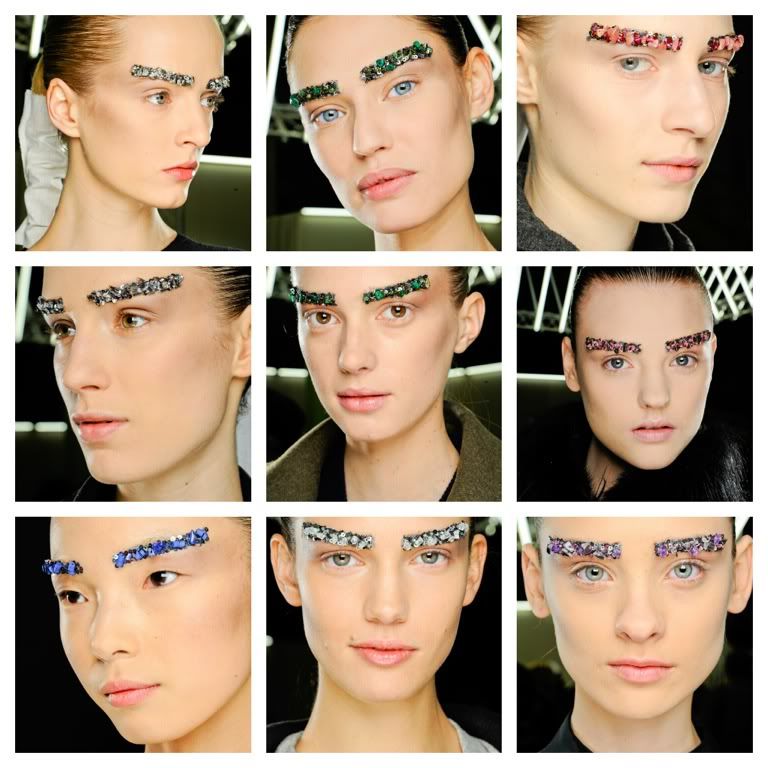 Chanel fall/winter 2012-13 look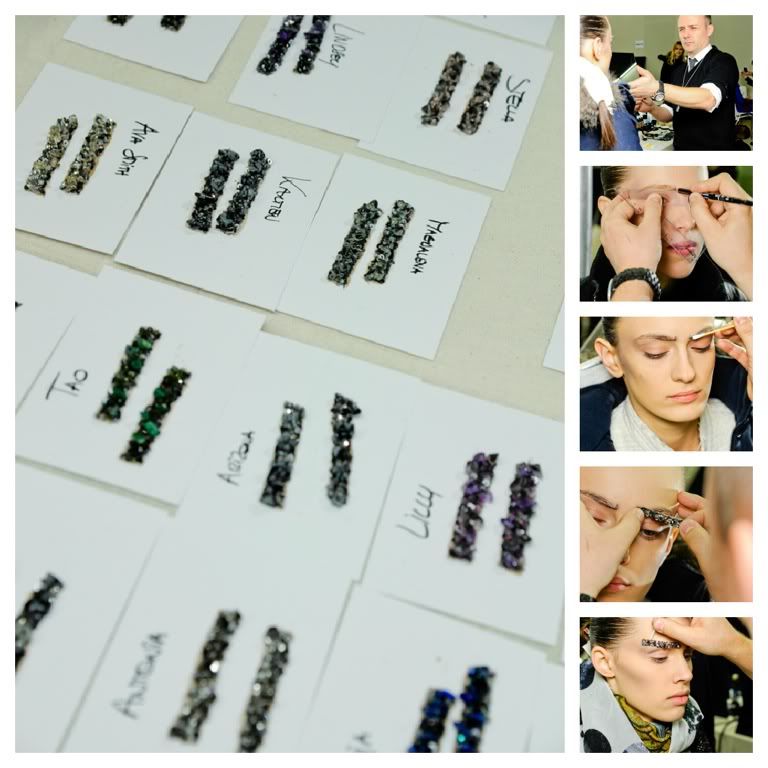 Chanel's Eyebrows: how to do
If you want something very long-lasting, you can choose Dermablend... have a look at that video with Zombie Boy! I think this video is incredible, and if you are on stage, act on a movie or need to cover a tattoo, Dermablend is definitely the brand for you. In the Usa, Dermablend Professional is a brand, in Italy (and I think all over Europe) is part of Vichy's family