BEAUTY // L'Oréal Luxe Canada Advent Calendar
Monday, October 08, 2012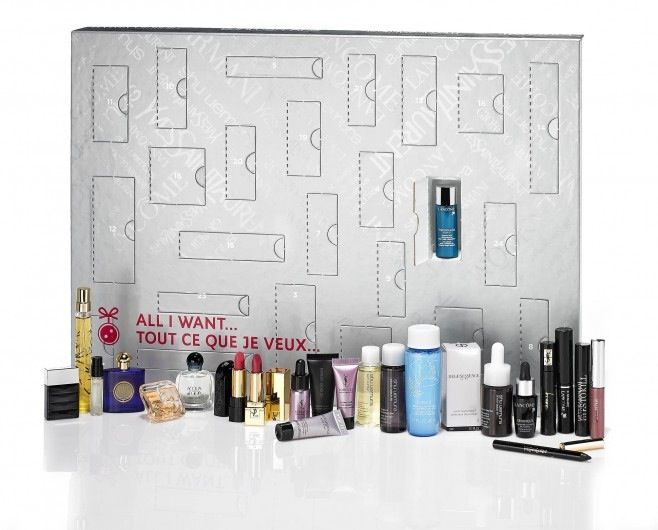 This is one of the most cool things I have ever heard about.
L'Oréal Luxe Canada has created L'Orèal Luxe Advent Calendar, an oversize calendar with, istead of chocolates, 24 sample size of product from one of L'Oréal Luxe Canada's exclusive brands: Yves Saint Laurent (that I love), Giorgio Armani (super great quality), Lancome (amazing) and Shu Uemura (great on skin).
This may be the best Christmas ever. I would like to buy it but I'm currently based in Italy so it's not that easy. To me it's also a little overpriced. I know that these are exclusive brands but $109 it's very expensive even if inside there is also a $10 gift card (if you want to purchase one of the full-size items from the calendar). I may be ready to pay a little less, around 60€ (or the equivalent in canadian dollars!). Anyway it may become a must-have for this Christmas!
Well done Canada!
What's inside?
YSL Forever Youth Liberator Eye Serum
YSL Dessin du Regard Waterproof Eye Pencil
YSL Rouge Pur Couture Lipstick
YSL Forever Youth Liberator Serum
YSL-Beele D'Opium Eau de Parfum
YSL Opium Eau de Toilette Spray
Shu Uemura Pore Clarifying Lotion
Shu Uemura Gloss Unlimited
Shu Uemura Phyto-Black Lift Concentrate
Shu Uemura Phyto-Black Lift Radiance Boosting Lotion
Giorgio Armani Acqua di Giogio Eau de Parfum
Giorgio Armani Attitude Eau de Toilette
Giorgio Armani Eyes To Kill Mascara
Giorgio Armani Fluid Master Primer
Giorgio Armani Eau de Jade
Giorgio Armani Multi-Corrective Rejuvenating Regenessence Cream
Giorgio Armani Youth Regenerator Regenessence Serum
Lancome L'Absolu Rouge Lipstick
Lancome Bi-Facil Eye Makeup Remover
Lancome Genefique Youth Activating Concentrate
Lancome Hypnose Doll LAshes Mascara
Lancome Tresor Eau de Parfum Spray
Lancome Visionnaire Advanced Skin Corrector