LIFESTYLE // Christmas gifts for family, friends & Bridget Jones
Friday, December 14, 2012
Dear Santa,
this year I have got a brilliant idea!
I could help you on your work, doing the perfect Christmas Shopping List!
It's not exactly that I don't trust you, it's because I more up to date.
So, take notes.
Caro Babbo Natale,
quest'anno ho avuto un'idea geniale!
Ti darò una mano, compilando la perfetta Shopping List di Natale!
Non è che proprio non mi fidi è piuttosto che, diciamolo, magari io sono un pò più sul pezzo.
Quindi, inizia pure a prendere appunti...
Let's start with
mummy
. You know she deserves something cool, like a bouclé jacket by
Mango
. Chic as the original one by Chanel, this jacket will fit perfectly for an elegant look but it will also add an edge to a more casual one.
Iniziamo con la mamma. Si sa, lei merita qualcosa di bello, come la giacca bouclé di Mango. Chic come quella originale di Chanel, questa giacca si abbina perfettamente a un look elegante ma da un tocco speciale anche a uno più casual.
Daddy
needs something clever. Like a wine tasting experience.
What about
grandparents?
They'll love a Nespresso Coffee Machine, so they can invite friends for a brand new coffee at their place.
Per il papà serve qualcosa di particolare, come un'esperienza di assaggio di vini. L'amerà.
E per i nonni? Un a macchinetta per il caffè Nespresso, così nei freddi pomeriggi invernali possono invitare i loro amici a casa e bere un caffè "da bar".
For
brothers and/or sisters
, why don't you go for a tender and vintage family photo album?
For the
beautiful aunt
a
Desigual by L
. coat in red and black (remember: you still have her silk navy blue long dress to give her back).
For the new
niece
, a pop-up book will bring her into another dimension.
Per i fratelli e le sorelle varie, cosa meglio di un album di foto familiari vintage?
Per la zia, quella bella, un cappotto rosso con disegni neri di Desigual by L. (Ricordati che hai ancora quello splendido vestito blu navy di seta che ti ha prestato da portare in lavanderia).
Per la nuova nipotina, un libro pop-up. Immaginatevi i sorrisoni e lo stupore quando lo aprirà!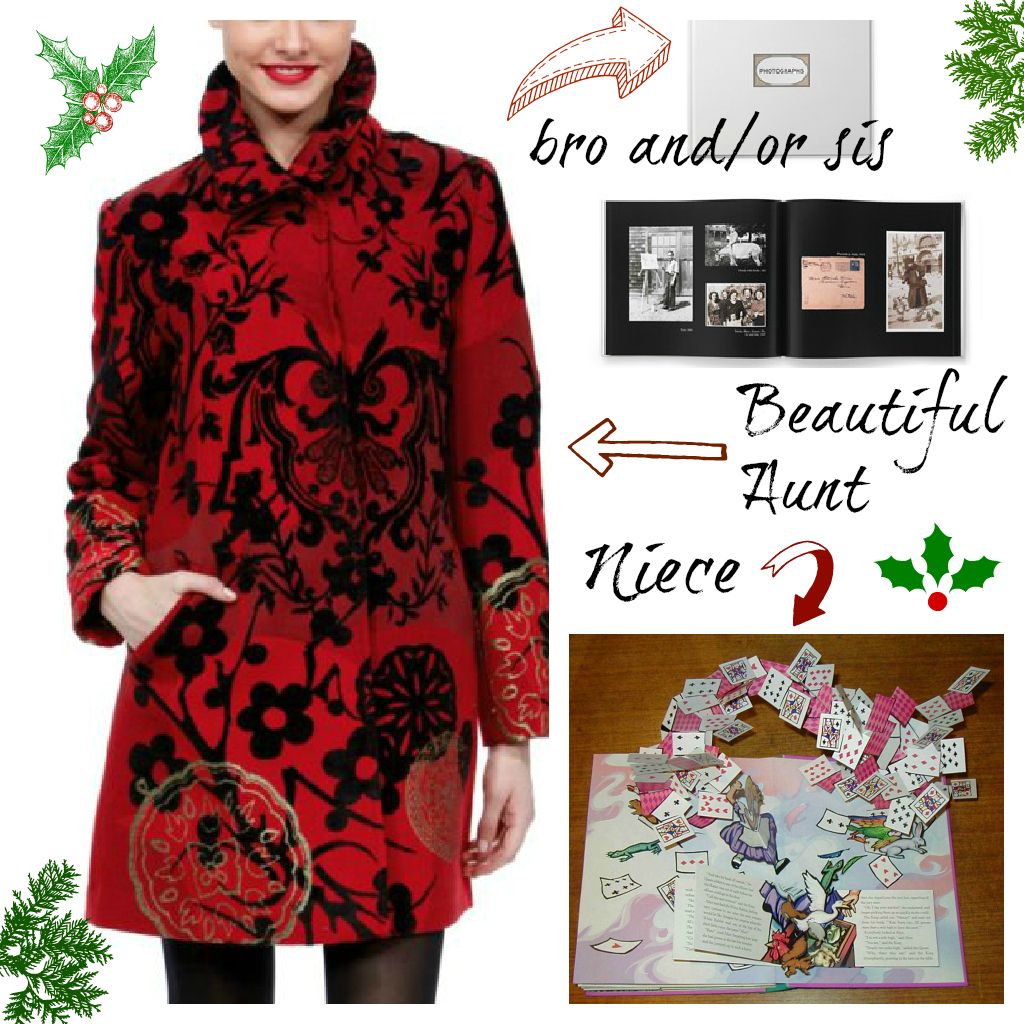 For the boyfriend/fiancè/husband buy a Lonely Planet guide and put inside it a voucher for a weekend escape, an air ticket, a groupon bonus...well something that brings you out of the ordinary.

Per il ragazzo/la fidanzata/il marito compra una guida della Lonely Planet e nascondici dentro un buono per un weekend di fuga, un biglietto aereo, un bonus di groupon... Insomma qualcosa che vi porti fuori dalla solita routine.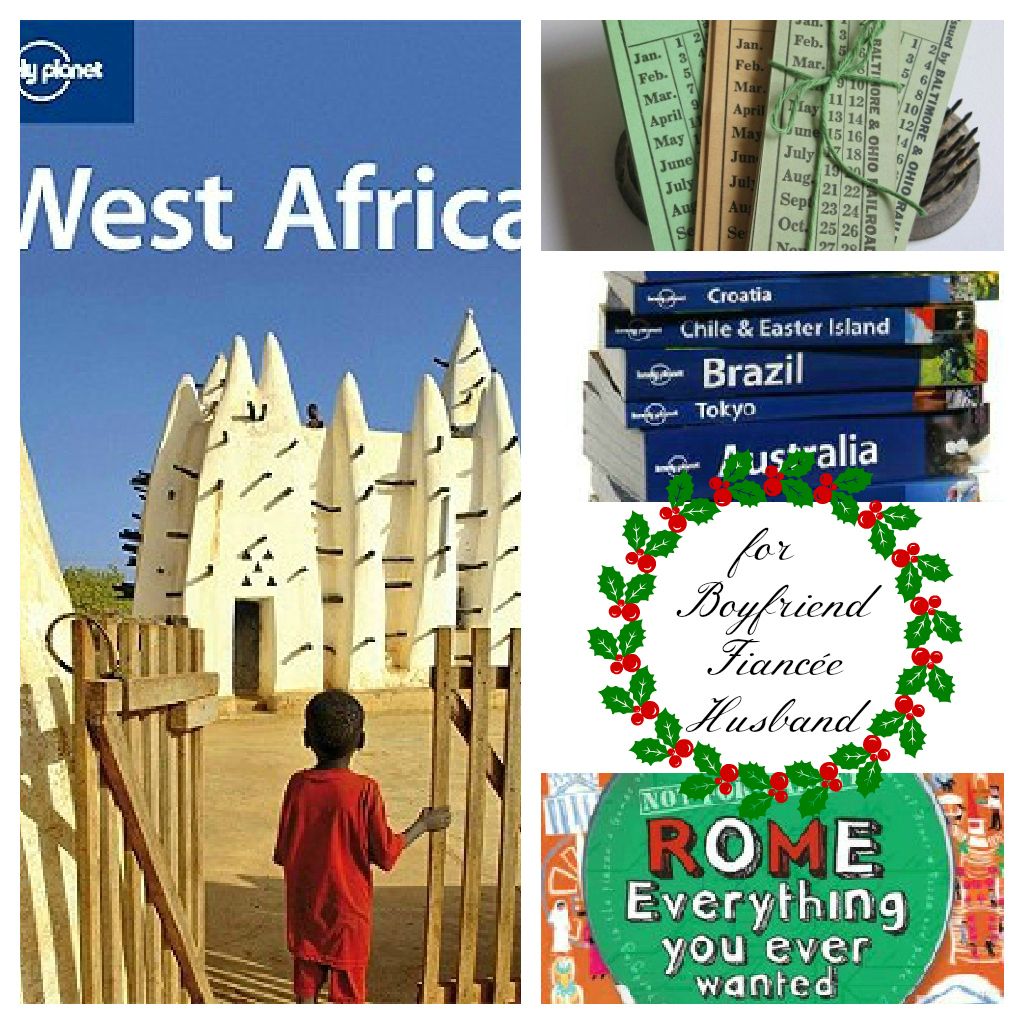 For the fashion lover friend, something extremely fashion. Like Tom Ford's book. With its black cover, it's the perfect coffee table book.

For the geek friend, find something iphone related, it's even better if is something witty.
For the
Cara Delevingne look-alike friend
(damn!) a basic tshirt from H&M. She can wear anything and always looking like if she is wearing Haute Couture.
Per l'amica appassionata di moda serve qualcosa di estremamente fashion. Proprio come il libro di Tom Ford che, grazie alla sua bellissima copertina nera (e di che altro colore, altrimenti?), è perfetto anche per decorare il tavolino del soggiorno.
Per l'amica che adora il make-up, scegli qualcosa di luccicante. Come i nuovi pigmenti di Make Up Forever, quelli della collezione Holodiam. Io consiglio il white e il brown gold, sono favolosi! E luccicano, eccome se luccicano.
Per l'amico geek (inside ma anche outside), trova qualcosa per l'iphone, ancor meglio se è qualcosa di spiritoso.

Per l'amica che sembra Cara Delevingne (eh va bè, fattene una ragione), una t-shirt di quelle basic di H&M andrà benissimo. Tanto lei può indossare tutto e sembrare sempre vestita da capo a piedi di Haute Couture.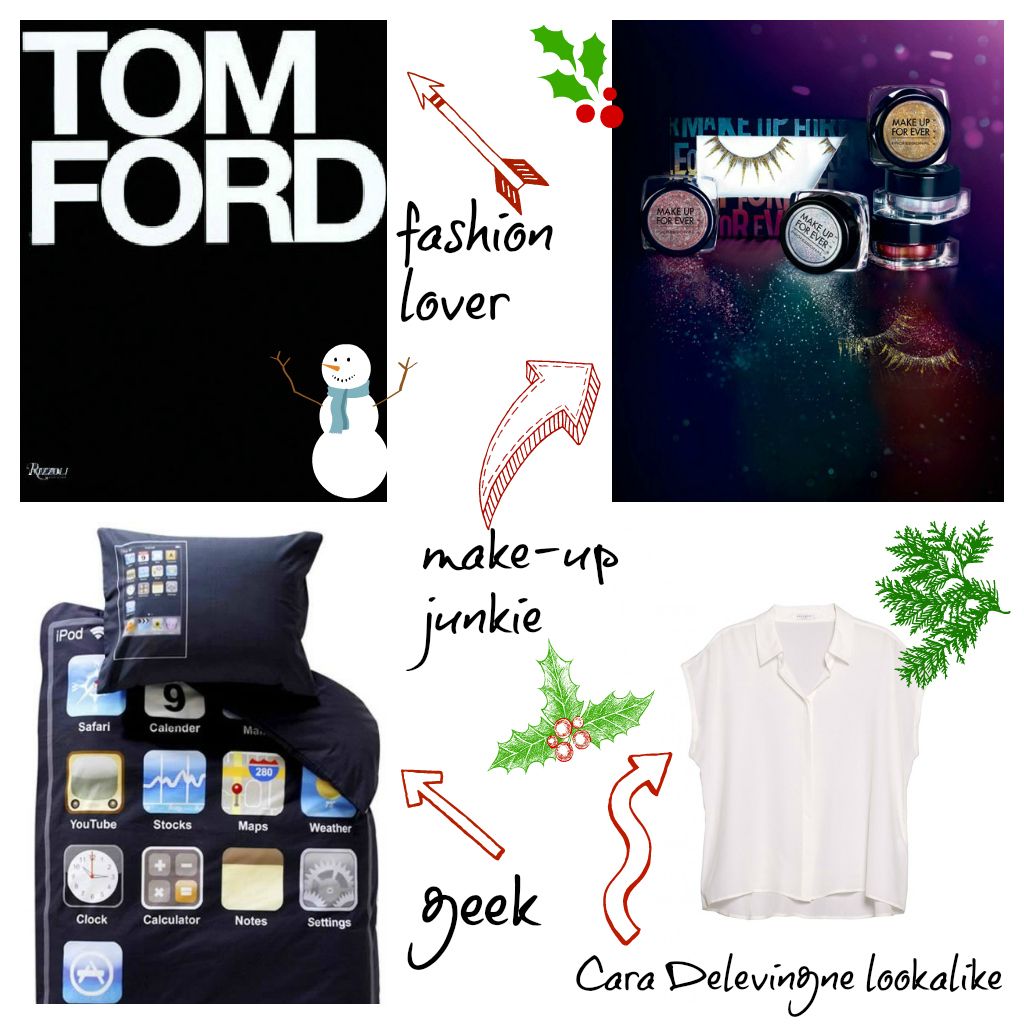 Last but not least, for the
Bridget Jones
(the one you know or the one you are), the
foot warmer
with shiatsu-massage function by Beuer. It's something to hide from boyfriend's view, but it will be the perfect companion during winter's evenings.
Infine, ma non meno importante, per Bridget Jones (quella che conosci oppure quella che sei), c'è lo scaldapiedi comprensivo di massaggio rilassante shiatsu di Beuer.
Magari è un qualcosa da metter via quando viene il fidanzato ma è perfetto per quelle serate invernali davanti alla tv oppure al pc...
If you like these Christmas photos, you can find them on my Pinterest's
Christmas
board and don't forget to follow me!
Se vi piacciono le foto natalizie che ho usato le potete trovare sul mio board dal titolo Christmas su Pinterest. E non dimenticatevi di seguirmi!