BEAUTY // I'm not Zombie Boy but I use Dermablend
Wednesday, January 23, 2013
Who is Zombie Boy?
Rick Genest (or Rico if you prefer) is a completely tattooed model.
Beautiful or awful, he is a star.
Featured in Lady Gaga "Born This Way" video, first Mugler by Nicola Formichetti's Campaign (the stylist/designer is the contemporary digital golden boy) and many other fashion editorials.
As I said before, he was also the face (and body) of Canada's Dermablend Campaign "
Go Beyond the Cover
". The claim "How do you judge a book?" is inspiring
Oh yes, Zombie is definitely more "charming" with all those tattoos (but I cannot introduce him to my parents with this look).
He started his transformation after a surgery to remove brain cancer when he was sixteen.
So, in a certain way, it does make sense. At least the begin of this, does.
Tattooes are a very common way to cover scars. And also Dermablend is.
But there is more: Dermablend is also a foundation/concealer.
Chi è Zombie Boy?
All'anagrafe è Rick Genest (o Rico se preferite, io ancora non ho capito qual'è quello giusto) è un modello completamente tatuato, e quando dico completamente intendo proprio completamente.
Ovviamente su di lui i pareri sono contrastanti, c'è per lo trova favoloso e chi orribile, ma è comunque una star.
E' apparso nel video di Lady Gaga "Born This Way, nella prima campagna pubblicitaria di Nicola Formichetti per Mugler nel lontano Fall/Winter 2011 e in molti altri servizi di moda.
Come ho scritto anche in un post di un pò di tempo fa, Zombie è stato anche viso (e corpo) della campagna di Dermablend Canada "Go Beyond the Cover". E la frase principale dell'iniziativa, "How do you judge a book?", è un buono spunto di riflessione.
Per me, Zombie è più "affascinante" tatuato, però ammetto che non potrei mai presentarlo ai miei in questo modo. Non so voi, ma pensate a incontrarlo di notte sotto il portone, mentre cercate le chiavi. L'infarto è assicurato per chiunque.
Zombie ha iniziato la sua trasformazione dopo un'operazione per rimuovere il cancro al cervello a sedici anni. In un certo modo, da questa prospettiva, il tutto ha un qualche senso e il ragazzo sembra (un pochino) meno un guascone con la passione per i disegni indelebili.
I tatuaggi, del resto, sono un modo piuttosto comune, e utilizzato, per coprire le cicatrici. E anche Dermablend lo è.
Ma non solo, Dermablend è anche un fondotinta/correttore.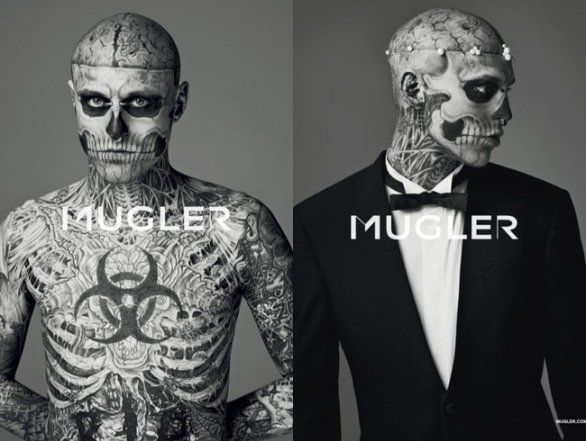 As suggested by Lisa Eldridge, I use it (both in the fluid than in the compact version) as a concealer on spots or rednesses. It worked perfectly and it can be a great dupe for Laura Mercier's Secret Camouflage. I still have to try it as a foundation but I'll keep you posted on it.
There are so many shades so choose it carefully (mine is just a shade more yellowish/darker than my skin, but I use it anyway).
In Italy as in many other countries, Dermablend is part of the
Vichy
's family.
Come suggerito da Lisa Eldridge l'ho iniziato a usare come correttore (sia nella versione fluida che in quella compatta, che preferisco) e fa miracoli. Copre perfettamente brufoli e rossori e, detto tra noi, può essere una valida alternativa al Secret Camouflage di Laura Mercier.
Lo devo ancora provare come fondotinta ma vi terrò informate.
Le nuance sono molte, sceglietela con cura e non fate come me che ho quella sbagliata ma la uso lo stesso!
In Italia, e in molti altri stati, Dermablend è una franchise di Vichy.