FASHION // What I love from Milan Fashion Week Menswear F/W 2013 Day 3-4
Thursday, January 17, 2013
MFW Menswear Fall/Winter 2013 shows from days 3 and 4.

MFW Menswear Fall/Winter 2013 ecco alcune degli show del terzo e quarto giorno.

I loved Gucci show. So elegant and seductive.
I've chosen Tim Blanks' words to describe a Gucci's trend:

For all its trimly tailored, classically fabric-ed, soberly toned salute to tradition, Frida Giannini's latest collection for men was missing one critical component of the gentleman's wardrobe: the necktie. Not a one on the Gucci catwalk, not counting the bow ties at night (but they're something else)
Obviously this was a trend not only at Gucci, but in this show it had is highest visibility.
I've never seen turtlenecks so seductive as they are in this show. And foulards for men, so chic.
Choose what you you prefer. Or use both, together.
Girls, take notes for your boyfriends' wardrobe.
PS: At Gucci there is also one of my favorite looks for next Fall/Winter.
Proprio bella la sfilata di Gucci, con capi eleganti e seducenti.
Un trend che in questa sfilata ha avuto la sua massima visibilità è il "cravatta no grazie".
Gucci la sostituisce con maglie a collo alto oppure con foulard, portati in modo formale (molto inglese come stile) oppure a "birds nest" cioè arrotolati più volte e, con grazia, intorno al collo.
Gli audaci possono optare per il foulard, gli altri affidarsi ai colli alti che nel prossimo Autunno/Inverno si preannunciano più sensuali che mai (danno quel tocco da d'intellettuale francese misto a un fascino da seduttore consapevole). Oppure, perché no, usare entrambi, insieme.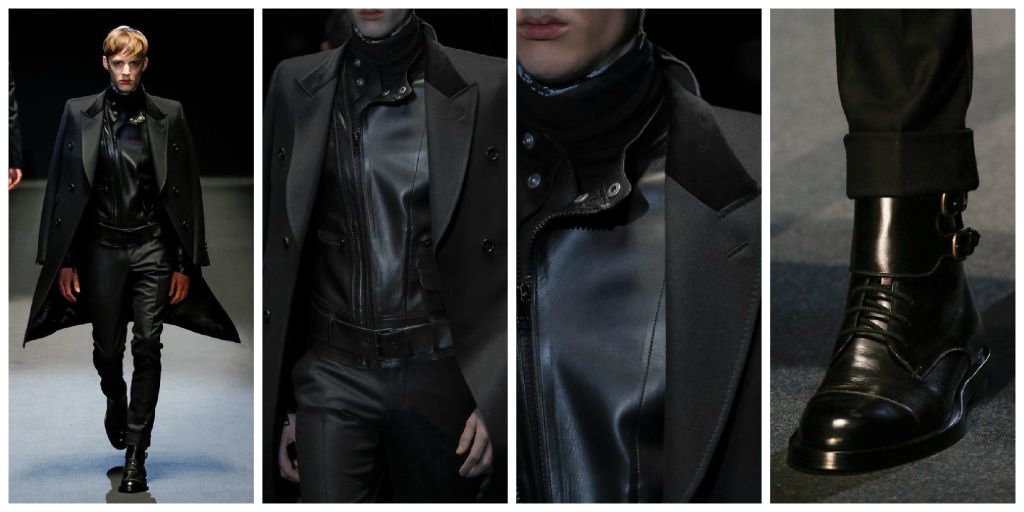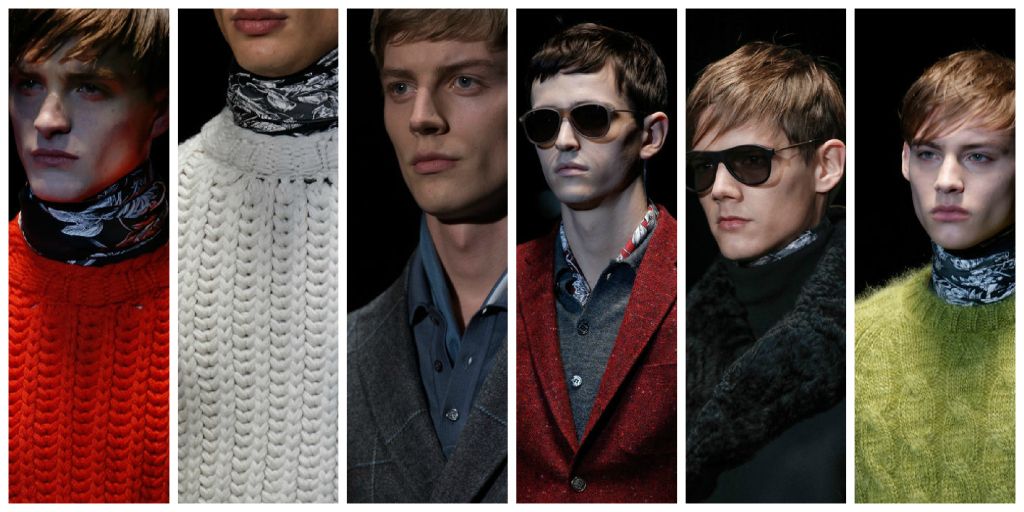 Giorgio Armani opened the show with pinstriped suits. A large pinstripe is alwaysa big risk. But he is Armani, so he can risk. As I've said more than once "a pinstriped suits or is by Armani, Zegna, Tom Ford or looks cheap".
Some outfits seem to come from movies, like "The Godfather", "Apocalipse Now", "Dracula" or "Raise the Red Lantern".
Movies or not, this collection was a tribute to men. Every piece fitted so perfectly, models bodies seem to popped up from the fabric.
Real men will love these clothes' fitting.
Giorgio Armani apre con il gessato, un gessato a righe larghe. Un vero rischio. Però Armani è sempre Armani e può permettersi di prenderselo, questo rischio. Come ho detto più di una volta, infatti, "un abito gessato o è di Armani, o di Zegna o di Tom Ford oppure è cheap". Questo è il rischio con il gessato che, può andar di moda o no ma,se la stoffa non è di buona qualità e il capo non cade perfettamente, è brutto. E non c'è nulla di peggio che vedere un gessato riuscito male.
Il gessato, ma anche molte altre scelte stilistiche e di styling, sembrano far provenire alcun degli outfit proposti in sfilata direttamente dal mondo del cinema. Io ci vedo riferimenti al "Padrino", ad "Apocalipse Now", a "Dracula", a "Lanterne Rosse"...Certo, Armani è il cinema.
Ma film o non film, questa collezione è un tributo agli uomini. Ogni pezzo cade così perfettamente da dar risalto ancora di più al corpo dei modelli.
Non c'è che dire, gli uomini ameranno questi abiti.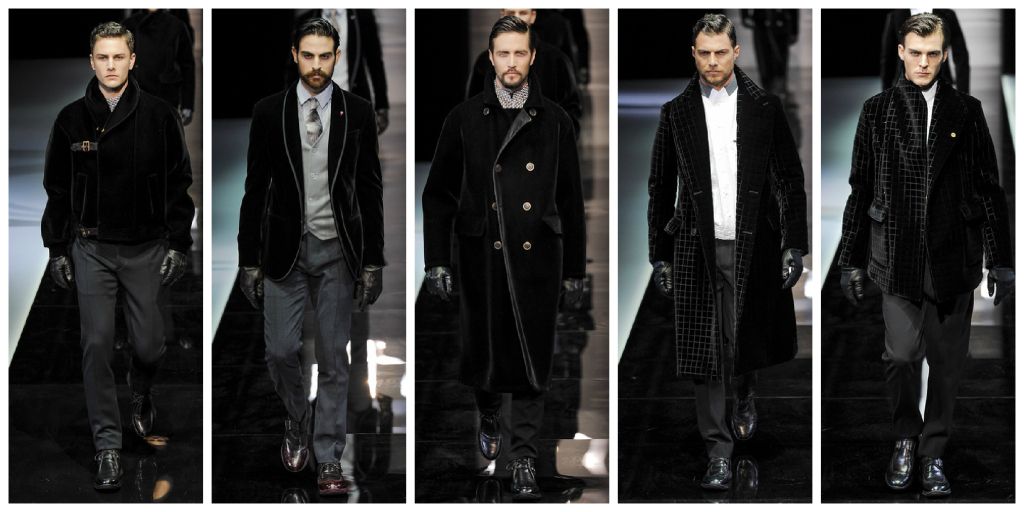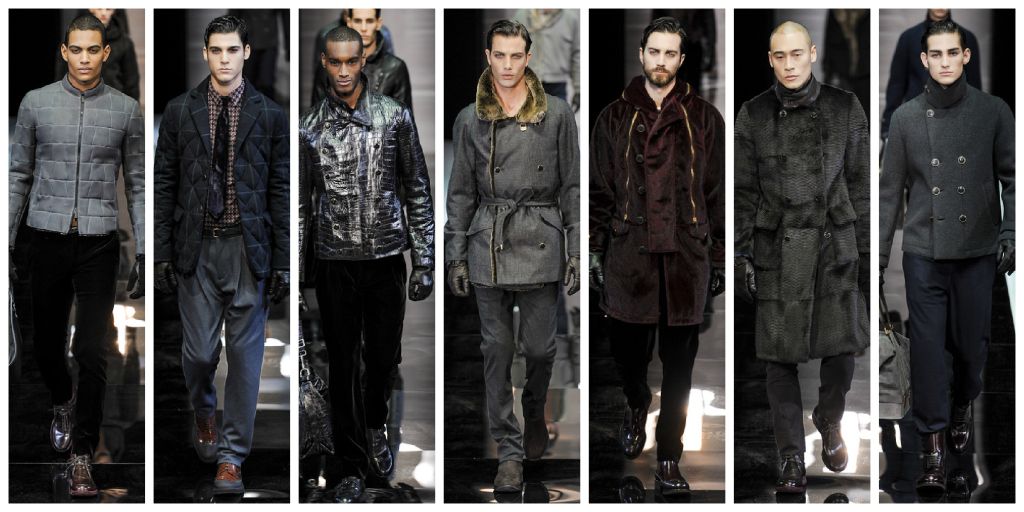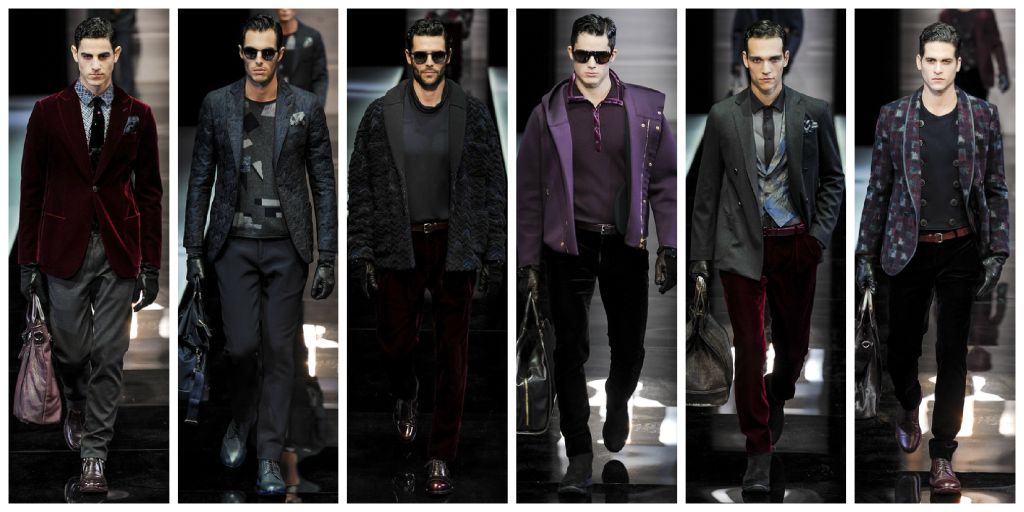 Fendi
: it's cold outside. So, stylish Robin Hood, take your big furry coat and let's go to play with the snow.
Da Fendi il tema principale sembra essere il freddo, così i modelli sono super coperti. Ritornano i cappotti con i cappucci che, personalmente, ho sempre trovato un modo interessante di rendere più sportivo uno dei capi indispensabili nel guardaroba di ogni uomo, anche di quelli che con il classico e l'elegante non vogliono averci nulla a che fare.
New trends spotted
: over coats, turtlenecks, foulards, velvet, no tie, 48-hours (or weekend) bags, hoods.
Nuovi trend intercettati: cappotti over, collo alto, foulard da uomo, velluto, "cravatta no grazie", borse da weekend, cappucci.
Favorite model
: model.com's #3 in top men ranking, Clement Chabernaud. The boy has also a tumblr,
here
.
Il modello che ho preferito
: il n°3 del ranking di models.com, Clement Chabernaud. Il ragazzo ha anche un tumblr, ecco il
link
.