FRANCESCA // Like a modern action movie diva
Monday, January 28, 2013


Almost evening.
Industrial landscape.
Black & white coat, purple lips, heels, layers of different black fabrics.
A modern diva is running away from the bad guys.

My inspiration has come watching Dita Von Teese guest starring in CSI Las Vegas.
So, I've decided to recreate a "Mata Hari meets Bond's girls" kind of look.
To do that I've chosen iconic garments in film's costume history. Then I've rethought them from a more contemporary and urban point of view.
Enjoy!


Quasi sera.
Scenario industriale.
Cappotto bianco&nero, labbra viola, tacchi, strati di differenti stoffe nere.
Una diva dei giorni nostri che scappa via dai cattivi.
La mia ispirazione per questo look è nata quasi per caso, guardando l'episodio di CSI Las Vegas in cui compare Dita Von Teese.
Così, mi è venuta voglia di ricreare un look alla "Mata Hari incontra le Bond girls".
Cosa potevo fare se non che rifarmi ad alcuni capi, storicamente usati nella storia del cinema per questo tipo di personaggi, e riproporli in chiave più contemporanea?
Per ogni capo ho portato un esempio di film in cui appare, ma ce ne sono davvero tanti, fatemi sapere quali vi vengono in mente!


As every diva/ female spy/ femme fatale I had high heels. Mine were by
Castaner
.
(Amanda Seyfried in "In Time").
Instead of a classic raincoat, I preferred a black&white dévoré coat,
Desigual by L.
(Eva Green in "Casinò Royale" had a black Gucci raincoat).
Leather is a kind of statement in action movies. My fake-leather jacket was by Liu-Jo.
(Anne Hathaway in "The Dark Knight Rises")
Something furry adds glamour to the character, always. My mongolia wool waistcoat was by
Gazel
.
(Angelina Jolie in "Salt").
Per ogni diva/spia internazionale/ femme fatale che si rispetti i tacchi alti sono d'obbligo.
I miei sono di Castaner.
(vedi Amanda Seyfried in "In Time").
Al posto del classico trench, ho optato per un cappotto dévoré bianco e nero di Desigual by L.
(Eva Green in "Casinò Royale" invece va sul classico con un trench nero Gucci)
La pelle è un classico nei film d'azione. La mia giacca di eco-pelle è di Liu-Jo.
(Chi se non Anne Hathaway in "Il Cavaliere Oscuro - Il Ritorno"?)
Per dare carattere e glamour al personaggio serve qualcosa di pelliccia o simil tale. Io ho scelto un gilet in lana mongolia di Gazel.
(Angelina Jolie in "Salt" ha un poncho e cappello con bordi di pelliccia vera, invece).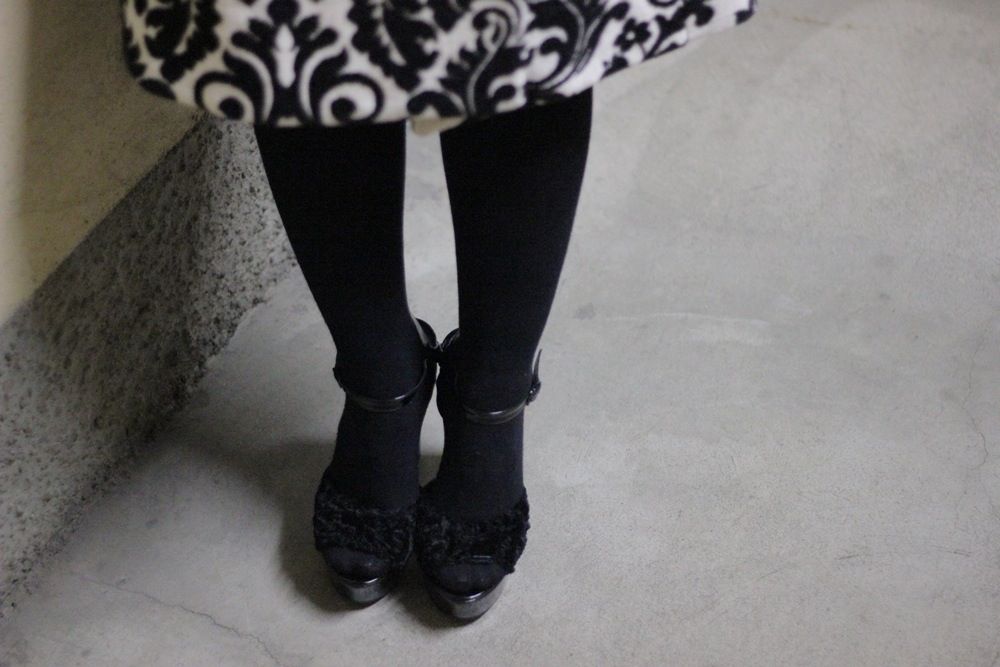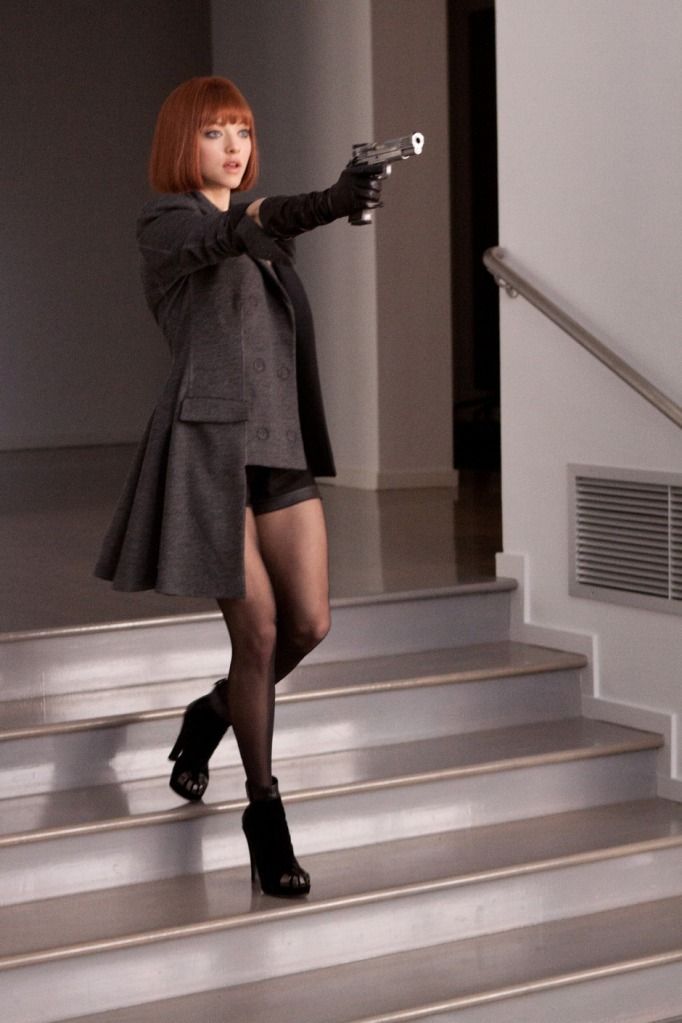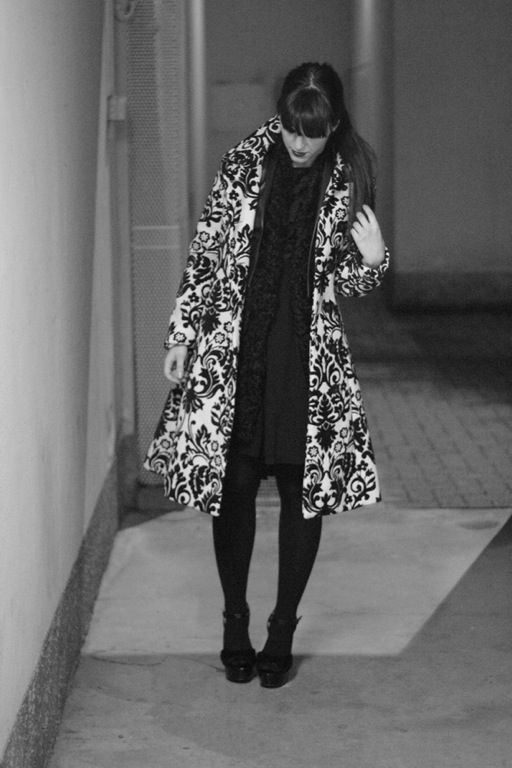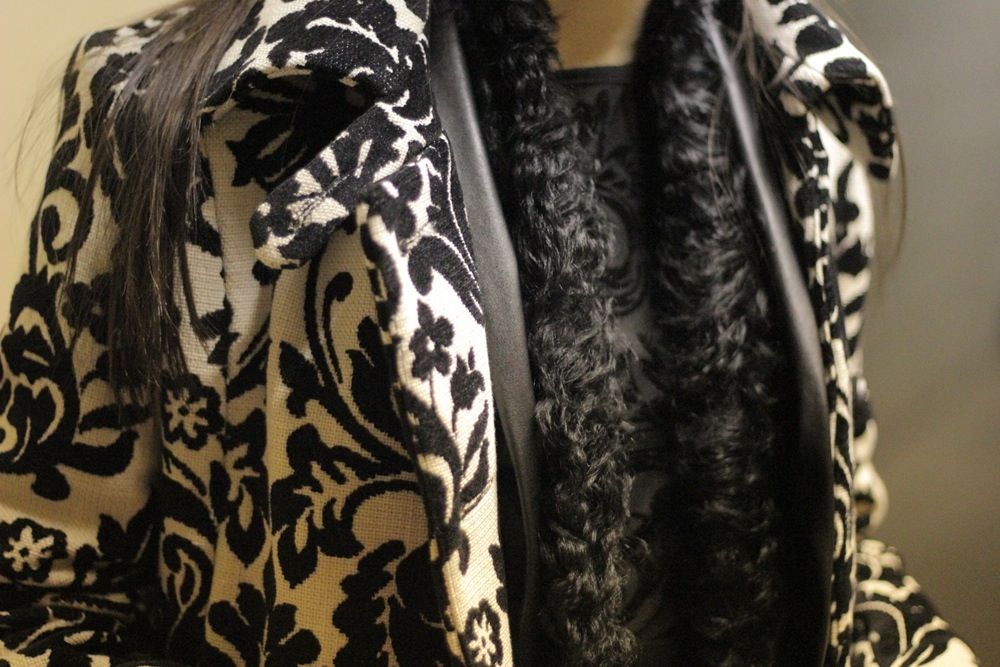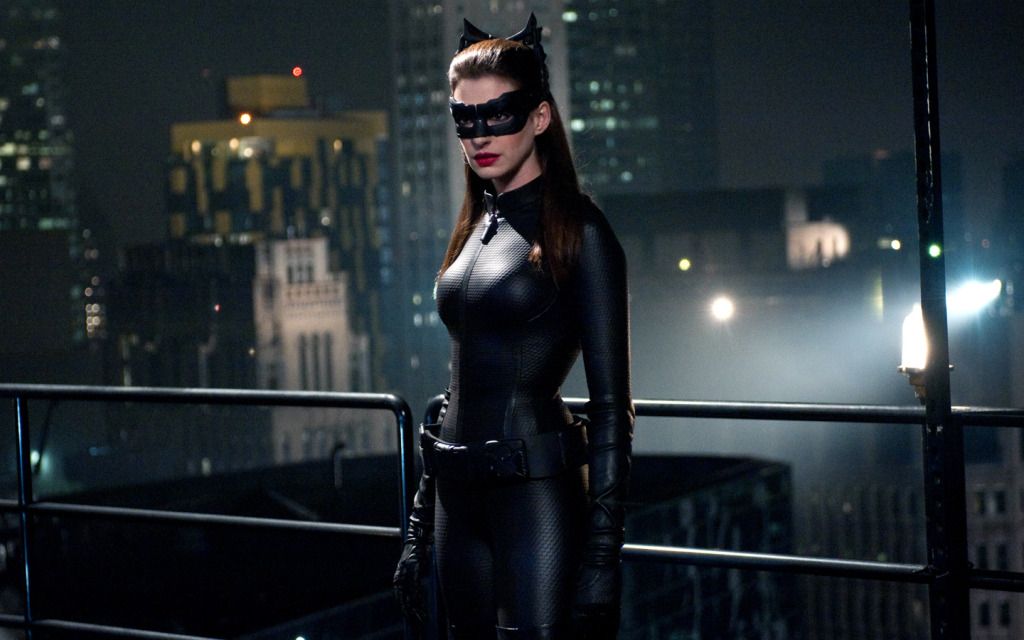 Personal Touches:
The black velvet dévoré dress by Dorothy Perkins. A Gucci's tribute.
Black thights. Come on, it's winter!
Purple lips using my favorite lipstick/gloss: L'Oréal Paris Shine Caresse in Milady.

Tocchi personali:
Un vestito con inserti in velluto nero dévoré di Dorothy Perkins, il mio tributo personale alla AW 2012-13 di Gucci.
Calze nere (è inverno, anche le Bond girls hanno freddo).
Labbra viola. Ho usato la mia tinta per labbra preferita al momento: Shine Caresse nella Tonalità Milady di L'Oréal Paris.