FASHION // Read This Today - Justin Timberlake Is All Dressed Up and I Love His Makeover
Wednesday, March 27, 2013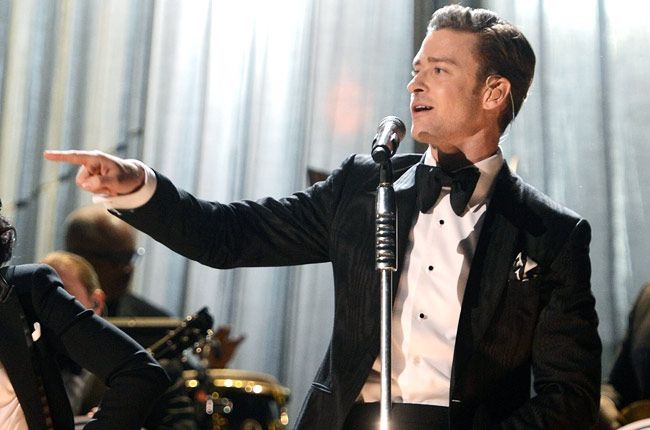 (From nytimes.com)

"Have you ever seen the body?" Tom Ford, the designer, said by telephone from London, referring to a broad-shouldered, narrow-hipped physique that might represent the universal standard for male models. He was talking about Justin Timberlake.
The Timberlake who took to the airwaves over the last two weeks to promote his latest musical effort, an album, "The 20/20 Experience" — his first in six years — and a single titled "Suit & Tie," and who also cranked ratings to a 14-month high on "Saturday Night Live," is in certain ways a Ford creation, right down to the modified pompadour.
"I happen to like the hair straighter," said Mr. Ford — Pygmalion to Mr. Timberlake's male Galatea.


Long gone and perhaps best forgotten is the boy-band alumnus with frosted curls and cornrows, the man who turned up for photo sessions in gray pleather jump suits and who once wore a stonewashed bell-bottom denim get-up to an awards show, with matching hat and armpiece, his girlfriend at the time, Britney Spears. The idea of a former Mouseketeer toying with sartorial reinvention is nothing new. Christina Aguilera did it. So did Ryan Gosling, and, of course, Ms. Spears.
But few performers have undergone such a complete makeover: teenage heartthrob in a knit cap and kicks transformed into a new Cary Grant. Beginning in 2011, Mr. Ford began playing paper dolls with the singer and actor, dressing him for the Oscars, the Grammys, the Brit Awards, the SAG Awards, the annual gala of the Costume Institute of the Metropolitan Museum of Art and his $6.5 million wedding in Italy last year to the actress Jessica Biel.
In a developing theme-and-variation essay on modern tailoring, the two men conjured up an image of "Mad Men" suavity with matinee-idol suits, butterfly bow ties, Savile Row checks and spectator shoes.
"He learned well," said Amy Fine Collins, a Vanity Fair special correspondent and guardian of that magazine's roster of the world's fashion plates. She was referring to Mr. Timberlake, named in 2011 to the International Best-Dressed List. Think of the earlier and unfortunate iterations of Mr. Timberlake, Ms. Collins suggested, as sketches for a finished work of art. "Some are awkward, some are flawed," she said. "What matters is you get there somehow."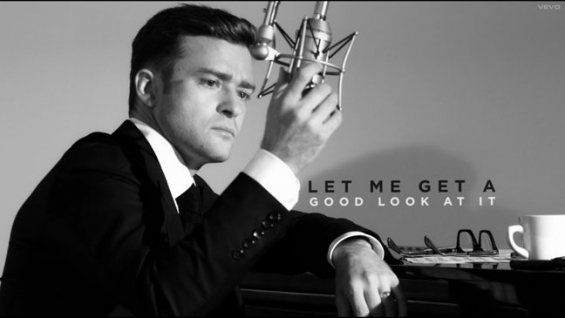 If in style terms Mr. Timberlake has suddenly hit stride, he does so in step with a generation of contemporaries, men whose early style models ran a grim gamut from Tim Allen to Snoop Doggy Dogg. Raised on Dockers and sweat pants and the slobfest that was Casual Friday, that same generation has now stampeded in the direction of an indestructible form of male armor: the suit.
It is taking its style cues again from stars of an earlier era, men like Grant, who like others of his ilk made it his business to learn the tricks of the trade. A one-time itinerant acrobat, Grant ruthlessly gauged his physical liabilities (he had a short neck and only one front tooth) and assets (pretty much everything else), and also assessed fashion history in order to craft a style in the 1930s that designers have been sampling ever since.
Grant's crisp two-button suits, his subtly elongated collars, his fitted shirts, his French cuffs and his aura of impeccable masculinity became so much a part of his image that even now few are aware that his clothes were often specially created by a personal tailor and not the costume department at his studio
"Cary Grant didn't start out knowing how to dress," Ms. Collins said of an actor whose wardrobe for classics like "North by Northwest" "had nothing to do" with Paramount Pictures. "He'd been a circus performer, but he studied and he got it," she said, adding that like Mr. Timberlake, Grant turned his research into results that made what for most men would be difficult look effortless.
"When you're someone in your early 50s, and a major global pop star who's barely 30 identifies with your style and wants you to make all his clothes, you think, 'I'm still valid,' " Mr. Ford said. (Mr. Timberlake is, in fact, 32.)


"These kids grew up in a generation of baggy shorts and baggy athletic clothes, and now they want some kind of little formal touch to something," he added. "They want the glamour of suits and ties."
That glamour, which had gone missing for a long time from Hollywood, made Mr. Ford a natural go-to for film moguls and players. He had already dressed a number of stars (Mr. Gosling, Brad Pitt, Colin Firth) before being approached by a performer looking to use clothes to change his career narrative.
"To say 'Frank Sinatra' is wrong," Mr. Ford said. "But Justin was identifying with a sort of young, Rat Pack fantasy in some way, and that is a terrific look for him."
Sampling the style codes and wardrobe choices of old-time celebrities made sense, said Joe Zee, creative director of Elle and a stylist who helped Mr. Timberlake pull off some of his earlier transformations, starting in 1999. "Doing the Cary Grant thing is such an obvious evolution, and so cool."
Like Madonna, Lady Gaga and Rihanna, Mr. Timberlake has consistently shown himself a shrewd manipulator of image, Mr. Zee said, conjuring a new persona to telegraph each new shift in career trajectory.
"Image goes hand in hand with the music," Mr. Zee said. "Madonna was the first person to get how fashion visuals played a huge hand in understanding the next chapter."
Whether as a teeny-bopper, a dominatrix, a cowgirl or a geisha, Madonna dressed in a way that embodied the message of the latest musical adventure. "When you look back, the fashion will probably define her as much as the music does," Mr. Zee said.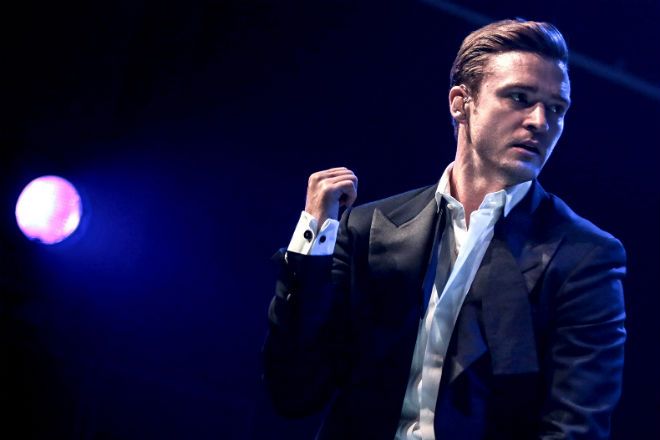 Nearly a decade ago, when Jim Moore — creative director of GQ and a man who has rendered hundreds of stars briefly more fashionable during his tenure at that magazine — first styled Mr. Timberlake for a pictorial photographed by Bruce Weber in Montauk, N.Y., it was clear the performer was more than a well-made shop dummy with a pretty falsetto and an unfortunate tendency to beat-box.
"Smart people, as we know, ask a lot of questions," Mr. Moore said. "This was way before 'Suit & Tie,' but he was already asking why the vest had to fit so tight, how much dimple there should be in the tie." He was, in other words, well in advance of his generational cohort, the young guys one sees lately fussing through the tidy racks of windowpane-check jackets and rows of monk-strap shoes at neo-geezer haberdasheries like Carson Street Clothiers in SoHo.
"I remember talking to Jim Nelson about it," Mr. Moore said, referring to the editor in chief of GQ. "We both said, 'Why shouldn't he be the elegant leading man on the cover?' We were, like, 'Let's Cary Grant him.' "
Every stylist (and increasingly, those who observe highly paid clothes hangers parading awkwardly down infinite miles of red carpet) knows that cramming stars into the latest designer finery is no guarantee of creating fashionable images, let alone anything resembling chic.
"You can change anyone for the sake of a shoot," Mr. Moore said. "And when it's over, they can walk off and wear their baggy khakis and never look back."
Like some of Mr. Timberlake's other collaborators, Mr. Moore noted the performer's chameleon nature and ability to adapt to whatever tools fashion provides. "He's clever because he took that moment and said, 'I'm going to push it,' " Mr. Moore said of a 2009 GQ cover on which Mr. Timberlake appeared in a three-piece suit, a tightly knotted necktie and a pocket square.
"None of it works unless the person looks the part and is willing," Mr. Moore added. "Yes, we turned up the volume, but Justin brought his openness and willingness. Whatever we suggested, 'Hit me!' was his first response."