FASHION // WWD Media Talk with Carine Roitfeld of Harper's Bazaar
Friday, September 12, 2014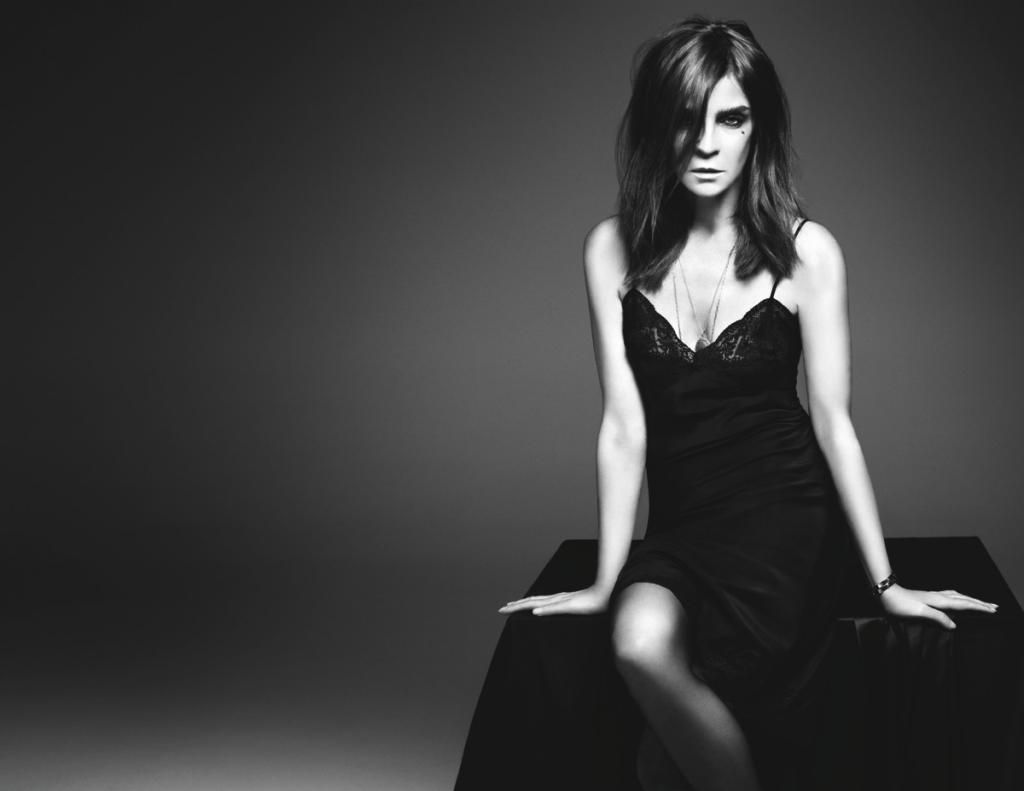 WWD is publishing interesting interviews with some of the key media people...


Carine Roitfeld of Harper's Bazaar

Carine Roitfeld is the founder and editor in chief of CR Fashion Book and the global fashion director of Hearst's Harper's Bazaar. Prior to that, she served as editor in chief of French Vogue for 10 years.

WWD: Can you give some background on your role at Harper's Bazaar?
Carine Roitfeld: A lot of people ask me, 'What are you doing?' No one really knows what I'm doing for Bazaar. It happened two years ago. I'm supposed to re-sign my contract in September. I had lunch with [Hearst Magazines International president and chief executive officer] Duncan [Edwards] and [Hearst president] David [Carey] [two years ago] and they proposed that I be like a global fashion editor. I liked it because I learned from Karl Lagerfeld that it's always great to do something that's never existed before, to start something new. When Lagerfeld started with H&M, it was the first time that someone big from a brand like Chanel goes to a brand for everyone. He was the first one. Everyone forgets.

WWD: Tell me more about your lunch at Hearst.
C.R.: I had a very strange lunch with them [David and Duncan]. I didn't know them. I thought they were very nice people and I was very surprised by their idea. I think it's a very genius idea to give one editor the ability to do one story, 17 pages, giving them total freedom for the choice of the photographer, the models, the choice of the clothes. And we give the same story to 30 countries [Harper's Bazaar editions] at the same time.

WWD: Having just departed Condé Nast's French Vogue, some may have seen the move to Hearst as revenge. How do you view it?
C.R.: At the same time you have 40 million readers. It's never happened before. It's huge and it's the reason why I accepted because I wanted to do more stories, not because I had to act like I had revenge for Condé Nast. I had just left Condé Nast. It was something very interesting that didn't exist before. It could be the same idea with a photographer, but they gave this offer to me. I accepted because it was the first time.








WWD: When were you approached about the Bazaar job?
C.R.: It was almost the same time I was starting my new magazine, CR. Because I am doing my magazine with Stephen Gan, who was the creative director for Harper's Bazaar, when he asked me "Would you like to work with Stephen?" I said of course. I could not think of working with anyone else but Stephen. He's my friend and he has a lot of talent.

WWD: Do you ever consult with the editors of the 30 editions of Bazaar?
C.R.: The problem is the editor in chief. It's maybe not so easy for them to put in 18-plus pictures for someone else. They may like me, they may hate me, I don't know. I don't have to think about it.

WWD: All the editors can chose photos from the portfolio you've created. When you're putting together the portfolio, do you think of the different markets Bazaar serves?
C.R.: I just look at what I want. What I dream.

WWD: What about the selection of models?
C.R.: No, because I think sometimes the models I'm using are big stars. If you have Scarlett Johansson, I'm sure that they know her everywhere. We're lucky at Bazaar, you can get all the top models.

WWD: What about photographers?
C.R.: Usually, if you are working with a photographer and you want to use his picture for a magazine, you can't — it costs a lot of money and everything is syndicated. Now? No problem. They agree at the beginning that the story will be all over the world. It's a simplification.

WWD: How many different photographers do you use?
C.R.: I can [only] use photographers that are not contracted with Vogue. I am restricted. You know, they're making a lot of contracts. There's a specialist for contracts at Condé Nast. I worked twice with Karl Lagerfeld. But I also push very new talents, people who I think are exciting. So you go from very new talents like Lara Stone to [work with] big names like Lagerfeld. There's always a way to make something new and bring them together. At Condé Nast, they would give a well-known name to someone like Mario Testino or Steven Meisel, a very big name, not someone young. It's a risk, but it's interesting, too, after I've worked with the same people for 10 years.

WWD: Do you ever think about advertisers when you pull clothing for shoots?
C.R.: I think a bit. Not too much because afterwards it's not going to be me. I try to control the image.

WWD: Have you ever gone too far in your career?
C.R.: I know I cannot go too far [at Bazaar]. There are limits. I'm lucky to have my magazine [CR]. So if I'm going crazy, I can do it in my magazine.

WWD: When you were at French Vogue, did you feel that you were able to be as creative as you are now at CR?
C.R.: Almost. I think my years at French Vogue, [Condé Nast International chairman and ceo] Jonathan [Newhouse] gave me a lot of freedom. I would follow my instinct and Jonathan was really, honestly, OK, I have a boss, but it didn't feel like I had any boss for 10 years. I think I made him laugh. I think when he sees this [she points to a recent issue of Harper's Bazaar], he's going to be really jealous.

WWD: When you shoot a big star, how do you create a unique image?
C.R.: If you're working with Scarlett Johansson, for example, she's very strong. She has a look and it's very hard to change her. Even though they change for films, they don't like to change so much when they talk about themselves. I think [Lady] Gaga is very unique. She's changing all the time.

WWD: Whom do you wish you could have worked with or still would like to work with in the industry?
C.R.: Dead or alive? In the dead, I never worked with Helmut Newton. I met him many times, but never worked with him, and Richard Avedon. There's another one — and for me — he worked with everything I love in fashion, his name is Bob Richardson, the father of Terry. The first picture I ever got was a present from Mario Testino and it was a print by Bob Richardson. For me, it's my biggest icon.

WWD: What's the picture of?
C.R.: It's a girl on the beach and she's crying a bit, there are some tears in her eyes. He always knew what he was doing. There's always a moment. It wasn't a fashion picture. It was about a woman. When I'm doing stories, I never start with the clothing. I always start with the woman herself. I don't copy Bob Richardson, I am inspired by him. He was such a big talent.

WWD: What's one difference between working at Bazaar and Vogue?
C.R.: It's very strange at Bazaar. When you're working at Condé Nast, you have the faces of Condé Nast in front of you, Jonathan, S.I. Newhouse. With Bazaar, I never met the people of Bazaar. Have you met them? The owner of Bazaar? Monsieur, Madame Bazaar? I never met them.

WWD: Do you mean the Hearst family?
C.R.: There is a family but I never see them. I'd love to meet them.

WWD: I'll tell David Carey to get on that one. How has technology changed the way you do your job and is it for better or worse?
C.R.: I don't think it's for better or worse. You have to deal with it. It was difficult for me when we started with photographs, you have to watch on the screen instead of watch through the camera. But everything can go online, and I think that's genius. Everyone can see the pictures, but it's also very dangerous, too. Everyone has a phone. There are a lot of blogs and when you come out of a show, everyone can take a picture of you. It's changed a lot.

WWD: How do you deal with that kind of attention or are you used to it?
C.R.: At the beginning, it [the attention] makes you very happy. My father was very happy to read the first article about me. Me, I'm not obsessed with that. I never wake up in the morning to open my iPad to check where my name is that day. I'm not obsessed with myself. If you listen too much about what people say about you — I think it's a bit sad to be obsessed with yourself. But as a woman, you want to look good in pictures. When I go to the shows, I try to smile. It makes you more beautiful and I think the photographers are nicer to you if you try to make their work easier. At the show, the photographers know you. They call you by name. You get very close to them. One time I was coming out of Marc Jacobs and I missed one step, and I fell, but no one took a picture. That's chic. It's maybe because I was nice with them, too. I think it's better to make your relationship with them nice. I will never forget this.

WWD: When you look at the landscape of magazine covers, do you think they're too commercial, meaning you can't push the limits as you could before?
C.R.: I don't think there's a lot of freedom now in the press because it's become a huge business. There are so many people working on the business side, and for the designer there's a lot of pressure. Fashion is a tough world. There are all these advertisers that you need to exist; it's great, but sometimes it's too much and you can't get your freedom. There is this and everything has to be so politically correct. I think there's a limit to being politically correct. Me, I make a lot of errors in my pictures. I push a lot all the time. But I always think, I have kids — I don't want to put in things that they want to copy — like no drugs, no violence, no anorexia.

WWD: Do you regret anything in your career?
C.R.: The only regret I have is [using] a cigarette [in photos] because 30 years ago we didn't know it was killing. Everyone was smoking — it was chic — Serge Gainsbourg, Catherine Deneuve; it was the coolest thing to smoke, but now we know it's a bad thing. I try my best to not show a cigarette in my pictures. When I was at Vogue, the only regret I had was not to put in more young designers, so I try to do much more of this at CR.

WWD: Do photographers today have too much control?
C.R.: Yeah. I think there are some photographers with huge talent like Bruce Weber, like Steven Meisel. Everything they are doing is genius, but there are also photographers, if they don't have a good education, they can't do good pictures. Honestly, am I going to be killed for that?

WWD: I don't think so. But here's one. What do you think about the controversies surrounding Terry Richardson and his apparently amorous ways with models?
C.R.: I think Terry....[p.r. tries to interrupt.] Maybe she tried to answer that question because Terry Richardson is a big name in Bazaar? Isn't he working for Bazaar? [p.r. interrupts again.] I would just like to say, he's a very good photographer who made a fresh name. He's not like his father, totally different. Bob Richardson was a photographer. Terry is a great photographer, totally different. Michael Avedon is a great photographer. Totally different from his grandfather. Sometimes it's difficult to make a name. I think Terry made a name.